Data insights for everyone
Chat with your Excel, Google Sheets, or database using natural language
Are you tired of endless email threads and support tickets with your data science team? With AI Data Chat, get immediate answers to your data-related questions. Interact directly with our AI 24/7, on your terms.
New Data Chat
Chat with sample data
How it works
Step 1
Select data source
You can upload a .csv file or share a Google Sheets that is less than 100 mb, we also support database or more complicated data types, contact us and we will onboard it for you at no cost.
Step 2
Set up data
Upload a .csv dataset or simply copy and paste a Google Sheets url to let our engine establish a secured connection.
Step 3
Chat with your data
Ask any analytics questions with natural languages and get answers right away. All code for answering your data questions or create beautiful chart are auto generated with Python. Say goodbye to submitting a support ticket or ask your teammates for help with data analysis.
Step 4
Need a chart?
Just say it, and AI writes code and create charts for you.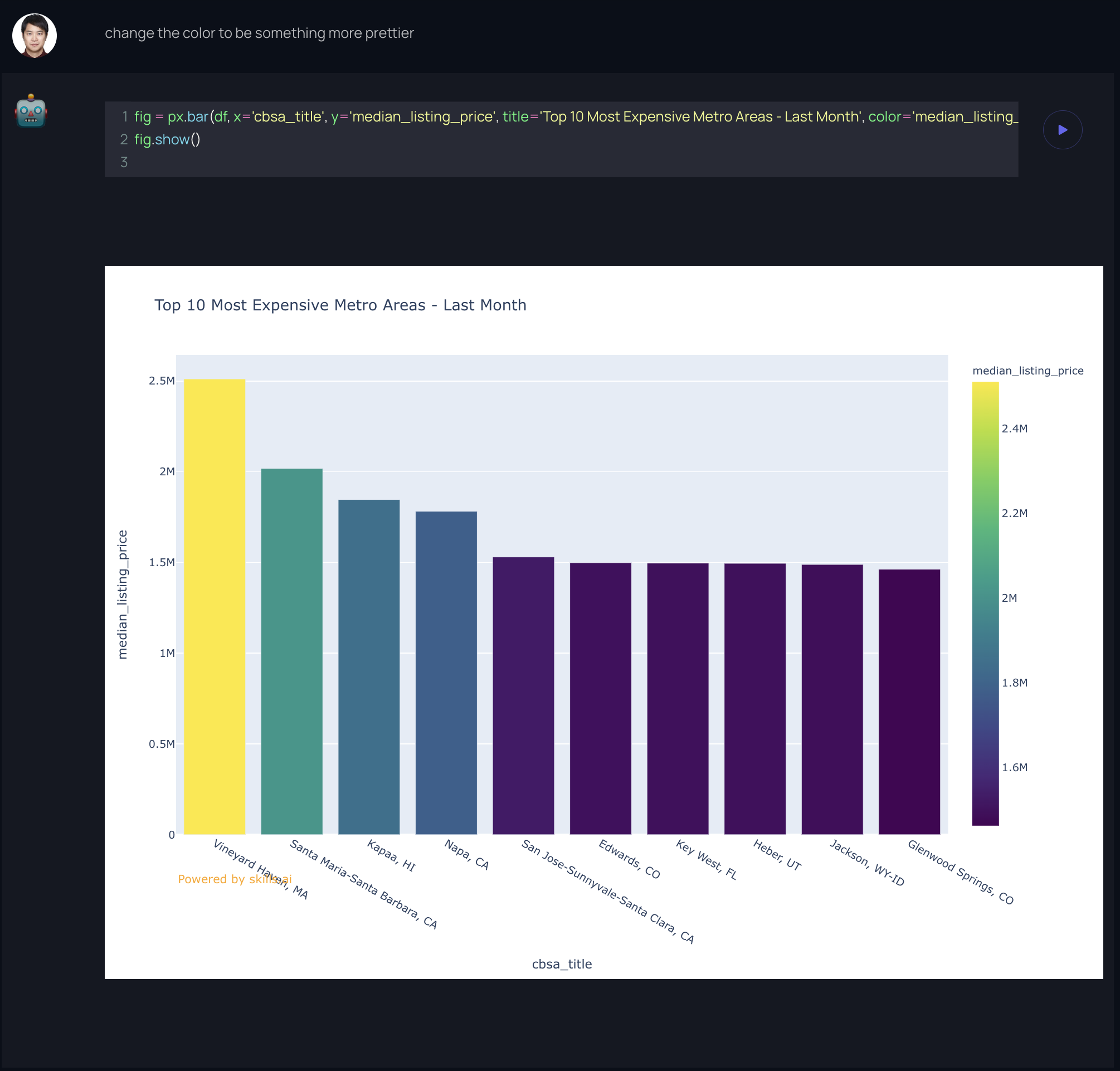 Step 5
You are in 100% control
Unsatisfied with the aesthetics? Give you feedback in natural lanauge, and AI will refine the colors for a more professional appeal. Want to update code your self? Edit the code and submit in the built-in code editor.
Frequently Asked Questions
It's as simple as selecting your .csv file or share your Google Sheets url and hitting the upload button. Once uploaded, you'll receive a unique link to share with your team.
Only those with the unique link you share will be able to access the data. This way, you have complete control over who can view your data.
Your data's security is our highest priority. All data uploaded is encrypted and securely stored on AWS. AWS employs robust, industry-standard security protocols, so you can rest assured your data is in safe hands.
Data Chat is designed to answer various types of business-related queries, from simple data look-ups to complex analyses. As long as the required data is included in your uploaded data set, your team should be able to ask a wide range of questions.
Why AI Data Chat
Say goodbye to hours of data compilation. With Data Chat, you'll have your numbers crunched and charts ready in minutes, letting you finish your work earlier than ever.
No more repeated data pulls, no more ad hoc analyses, and no more waiting for responses. Empower your team with the data they need, when they need it, while freeing yourself to focus on what really matters: using data to drive strategic decisions and meaningful insights.
With Data Chat, you and your data team can step back from constant inquiries and let your colleagues dive directly into the data. Just upload your data set in a simple .csv file, share a unique link, and watch as the power of data-driven decision-making becomes accessible to your entire team.
Safe and Secure
We understand that your data is invaluable. That's why Data Chat encrypts your data and stores it securely on Amazon Web Services (AWS), a leading provider in secure cloud services. Your data's confidentiality, integrity, and availability are our highest priorities.